Special Offer
Enjoy The Winter Season 2020
Book 7 nights and pay only for 6 nights
Make your enquiry quoting our Winter Special Offer code: WINTER2020
You will then receive 1 Night Free for any week stay based on 7 nights.
Applicable only for weekly stays (7 nights stay minimum) for the following rental periods:
From the 10th of January to the 1st of March 2020.
Please note this Special Offer is subject to the Terms & Conditions below*)
(*) Special offer Terms & Conditions:

– This Special Offer for the Winter 2020 season starts on Sunday 1st of December 2019 for new request applicable during the Winter season 2020 (from January 10th until March 1st 2020).

– This one night free offer is applicable for any new request based on minimum stay of 7 nights
7 NIGHTS STAY = 1 NIGHT FREE

– This special offer is not valid for any enquiry under 7 nights. Our current rates will be applicable.

– This Special weekly rental Offer is exclusively applicable for the following period:  From January 10th until March 1st 2020.

– This offer is subject to apartment availability at the time of your request.

– This offer cannot be combined with any other special offer or promotion.

– This special offer is not applicable for any request bellow 7 nights.
Paris Summer Sensation 2019
PARIS PLAGE 2019 & LES QUAIS DE LA SEINE
Pack your swimsuit & sunglasses and laze in the sun by the banks of the River Seine, just a few minutes walk from your Parisian pied a Terre on Ile Saint Louis. Between the Tuileries and Pont de Sully, there are sandy beaches, palm trees, lines of deck chairs and water jets.  Plus, you can join in the fun of a tai-chi class, rollerblading, scaling a climbing wall, or a relaxed game of boules. NEW in 2017 will be lots of international concerts in front of the Hotel de Ville and your rendez-vous at Paris Plage! The Seine unravels the secrets and story of Paris from its birthplace on the Ile de la Cite to the transformation of the quays at Bercy upstream, and the triumphant Eiffel Tower downstream.
SECRET GARDENS OF PARIS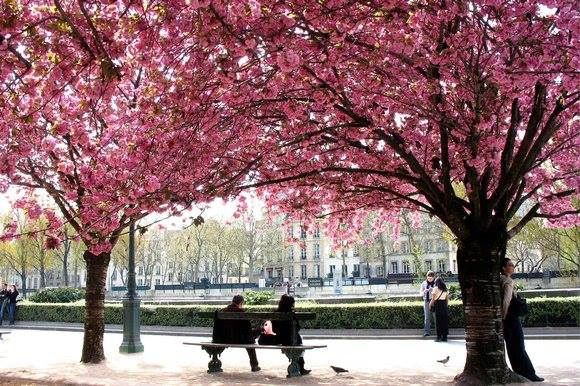 Our team will share with you their knowledge of the secret treasures of Paris, such as the location of hidden gardens and special nooks perfect for laying out your checked tablecloth and picnic basket laden with freshly baked baguettes, cheeses and wines from the nearby markets.  Plus, the not to be missed Palais Royal Garden set amidst a breathtaking architectural ensemble. Shhhh!
FOUNTAIN & GARDEN  MUSICAL FIESTAS!
August is a fabulous time to enjoy the fountain & garden fiestas throughout Paris, which feature dramatic water fountains spouting skywards and serenading  listeners with music. Several circuits are available for you to explore including the stunning gardens designed by André Lenotre as the evening closes you can marvel at the spectacular fireworks exploding in front of the Grand Canal! As a special favourite of our team are the gardens at Chateaux Vaux Le Vicomte not far from Paris. As night falls the garden come alive with an unforgettabl visual feast of thousands of flickering candles amid the majesty of this breathtaking estate.
LES "BOUQUINISTES" & "SHAKESPEARE & COMPANY"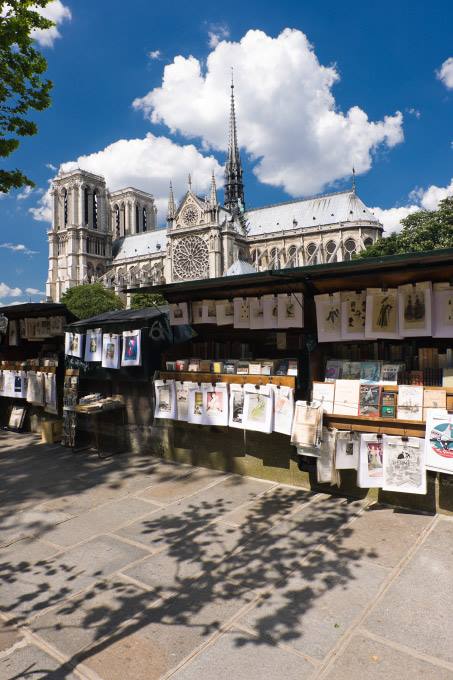 Les Bouquinistes, the riverside booksellers offer an enormous 'open-air bookshop' that is an integral part of the Paris landscape. Located on the banks of the "Ile Saint-Louis" & "Ile de la Cite", some 200 riverside booksellers open their green boxes to reveal a treasure trove for readers who visit them from around the world.  Another essential pilgrimage for dedicated readers is a visit to 'Shakespeare and Company', an independent bookstore on Paris's Left Bank.  Since the 1920s it has been a gathering place for writers including Ezra Pound, Ernest Hemingway, James Joyce and Ford Maxox Ford.  Australia's best-selling novelist the late Bryce Courtenay also visited this bookshop in early 2012.  You may also of seen this bookshop featured in the films 'Before Sunset', and Woody Allen's 'Midnight in Paris'.
FRENCH BISTROT & PARISIAN CAFES
Our staff are all dedicated 'foodies' and we can share with you the latest 'hot' places to go to known only by the locals!  Here you can merge with the crowd and sip an aperitif and  watch the  world go by! We also invite you to share with us your own discoveries from your sensational summer in  Paris!
BATEAUX MOUCHES, LE CALIFE!
We invite you to rediscover the magic of the Seine as you float by the legendary landmarks of the City of Light.  We look forward to working with you to plan a special celebration from a wedding anniversary, birthday celebration, or a cruise for lovers on their first visit to Paris, the world's most romantic city.  We also highly recommend you step aboard 'The Caliph" for an authentic cruising experience through the heart of Paris!
PARIS FROM YOUR BALCONY
G
uest Apartment Services specializes in selecting apartments which afford
you spectacular views.  You will literally feel that Paris is at your feet!
Our team will work closely with you to select the perfect apartment that we know
will ignite your passion for Paris!
By going to our website you can enjoy a 360 degree virtual tour of each of our apartments !
For more details please consult us at

[email protected]
At any time of the year, with Guest Apartment Services, you can truly feel like a local in 'The City of Light'.
All of our staff are dedicated « foodies » and look forward to sharing with you details of their latest favorite places. We also can't wait to hear about your discoveries from your most recent stay with us.​
A bientôt à Paris!