See & Do in Paris
Galeries LaFayette
The concierge service at Guest Apartment Services Paris is pleased to introduce you the famous department store Galeries Lafayette located on boulevard Haussmann
in the 9th arrondissement with a sales area of 70,000 m2.
We are always pleased to recommend our guests expert tips for the best shopping at Galeries Lafayette. 
About
Galeries Lafayette has made it its mission to offer its guests in France and around the world a special,
authentic French shopping experience and only the best brands from all over the world.
The advice provided by the staff is always personal and based on experience, taste and a sense of good quality.
First opened in 1893, the Galeries Lafayette quickly became famous for the quality products it offers.
They have been named after the location of their first headquarters, 1 Rue de Lafayette.
This location was perfect for a high-end department store as it is easily accessible by train and close to the city's main boulevards.
The department store attracted many visitors from the higher social classes and was so successful that Les Galeries Lafayette expanded
only seven years later and 1903 Lafayette opened their first store abroad.
Not only the wide range of high-quality bargains but also the interior design of Les Galeries Lafayette are breathtaking.
The huge dome made from colored glass and with a lot of golden details reminds more of a palace or baroque
church than a luxurious department store
Not only the wide range of high-quality bargains but also the interior design of Les Galeries Lafayette are breathtaking.
The huge dome made from colored glass and with a lot of golden details reminds more of a palace or baroque
church than a luxurious department store
Enjoy Christmas in the Galeries Lafayette: Light chains covering the facades of Galeries Lafayette,
decorated windows and a gigantic Christmas tree, there is everything you wish for at Galeries Lafayette.
As every year, the department store shines and sparkles as Christmas approaches, to the delight of both children and parents.
Christmas songs are played, and you will be carries away by the holiday spirit. In the middle of the stores hall you will
find the impressive 20 meters high Christmas tree. Decorated in another theme each year, it is a new experience every Christmas.
Institut du Monde Arabe
The Arab World Institute is an organization founded in Paris in 1980 by 19 Arab countries with France to researche ans disseminate information about the Arab world and its cultural and spiritual values.
The Institute was established as a result of a perceived lack of representation in the Arab world in France, and seeks to provide a secular location for the promotion of Arab civilization, art and knowledge.
Origins
The Arab World Institute is located in a building known as the "Institut du Monde Arabe", in the 5th arrondissement of Paris.
Originally, the project was conceived in 1973 by President Valéry Giscard d'Estaing.
But the museum was constructed between 1981 and 1987 (by the architect Jean Nouvel) under the presidency of the French President Francois Mitterrand
as part of his urban development series entitled, the "Grand Projets."
The Institute promotes cooperation and exchanges between France and the Arab nations, particularly in the areas of science and technology, contributing to the understanding between the Arab world and Europe.
Nowadays
In February, 2012, The Arab World Institute revealed its new spaces, after three years of works.
More than 560 unpublished works, divided on four levels, are presented:
bronzes, ceramic, woodwork, textiles, scientific objects, illuminations and great exhibitions are regularly organized.
Museum and exhibition
The museum's aim is to make discover the Arab-Islamic civilization, from the origins to our times. It's divided in three parts: Islam birth, then the social life in the Arab world and at the end of the museum,
you can admire contemporary works of art which represent the actual world.
The Arab World Institute organized each year temporary exhibition that shows the Arab world wealth and diversity of creation.
Some exhibitions highlights the historical heritage of these territories like "Osiris, mystères engloutis d'Égypte" 
and the other shows the contemporary Arabs world like "Hip Hop, du Bronx aux rues arabes" or "Maroc contemporain".
Some society facts like "Hajj, le pèlerinage à la Mecque" or the links between East and West
with "Il était une fois l'Orient Express" are presented.
Library and the Tower of Books
The spaces of the library are distributed on three interconnected levels of the Tower of books,
a spiral which makes discovering in a long panoramic view the city shape, the Seine, Notre Dame, and the boulevard Saint-Germain.
This "Tower of books" ramp reminds the famous minaret of the Samarra mosque.
Hypostyle room
This space reminds, by its hugeness, the Luxor temple and especially the Córdoba mosque, an emblem of the Arab-Muslim world architecture.
This place proposes throughout the visit to discover pieces coming from Riyadh, Bahrain and even Damascus, Alep and Palmyra, arrived in Paris before the beginning of the war
(like a piece of Palmyra tombstone).
Guest Apartment Services recommendations
In the 9th Floor, the panoramic terrace offers a splendid view of Paris
with all its monuments and in the first plan, the Cathedral Notre Dame de Paris.
During your teatime or in the evening with a cocktail, just come and try the experience to see a beautiful sunset.
Secret Paris
The covered passages of the City of Light.
Built in the 19th century, these passages were the precursors to the modern shopping mall. Their interest decreased with the development of "les grands magasins" at the turn of the century.
Discover these superb covered galleries, especially during the winter time when it drizzles … sit at a café, enjoy old books stores and toys stores, what else ?
For all Paris lovers, see below a list and map to (re)discover the charm of these passages:
(1) Passage des Princes (2e)
(2) Passage Verdeau (2e)
(3) Passage Jouffroy (2e)
(4) Passage des Panoramas (2e)
(5) Passage Choiseul (2e)
(6) Galerie Vivienne (1e)
(7) Galerie Vérot Dodat (2e)
(8) Passage du Bourg l'Abbé (2e)
(9) Passage du Grand Cerf (2e)
(10) Passage Ben Aiad (2e)
(11) Passage du Caire (2e)
(12) Passage du Ponceau (2e)
(13) Passage du Prado (10e)
Dior Exhibition at Musée des Arts Décoratifs in Paris
Travel in Dior World through this fantastic exhibition organized at Musée des Arts Decoratifs
Dior Exhibition, rediscover the universe of this unique creator, through this large exhibition at Musée des Arts décoratifs,  from 5 July 2017 to 7 January 2018, recommended by Guest Apartment Services
Fall & Winter Seasons in paris !
Your "Must DO" List for The Fall 2017 & Winter 2018
Winter Sales
A period of 5 weeks dedicated to shopping! The Paris fashion sales offer a shopper's paradise!
They commence on January 10th & finish on February 20th 2018.
To all our "Parisiennes" from the world wide, Let's go to Galeries Lafayette's Haussmann fashion store in Paris!
This iconic Paris monument is a symbol of Art Nouveau architecture!
The Christmas Spirit
Paris literally sparkles more than ever in Winter Holidays Season! Paris may be ideal for you ! Check out our Paris Fall & Winter Special Offer.
If you enjoy indoor activities such as visiting museums, Cathedral Notre Dame or spending a few hours reading peacefully in a traditional Parisian café while savoring a good "café crème" or a "chocolat chaud"…
"The Metropolitain", an Exquisite Gourmet destination !
The setting is a reminder of ancient metro stations featuring ceramics, benches, wooden chairs and even a station clock, and walls adorned with antique Parisian posters.
Chef Paul-Arthur Berlan worked at Le Meurice (3 Star Michelin) with Yannick Alleno for four years.
The dishes change with the seasons, and are prepared with gastronomic 'savoir faire!'
The Foundation Louis Vuitton
Discover the extraordinary 'spaceship' designed by its architect Frank Gehry, in the Bois de Boulogne, West of Paris.
A new contemporary structure seen as "a timeless work"… It is the opportunity to revisit an extraordinary architectural adventure, through an exhibition dedicated to the building.
Valentine's Day 2018
For the ultimate experience of romance we invite you to come to Paris in February for Valentine's Day.
Lot of couples came to celebrate Valentine's week-end in Paris!
Our conciergerie team has been glad to recommend the best places to enjoy this special event!
An Exceptionnal Property fo holiday rental with Exclusive and Incredible Views of Notre Dame… Paris at your feet !
Garance, a Paris Luxury Contemporary Two bedroom Apartment on Ile Saint Louis.
& Discover Garance Property in 360° virtual visit ! Ideally located on Ile Saint Louis Quai d'Orléans…
Exclusive & Incredible Views of Notre Dame, at your feet… Book this property online for your next vacation stay !
Your dedicated Paris Team
Liliane, Christophe, Philippe, Marie & Margaux will be pleased to welcome you on Ile Saint Louis.
Meet our Paris team in the Welcoming Office on Ile Saint Louis!
Our elegant & welcoming lobby lounge is the perfect place to relax after your journey to Paris. We look forward to welcoming you on Ile St Louis
& assisting you with our full range of Concierge Services… Discover our Paris Welcoming Office.
La Garde Républicaine
The "Garde Républicaine" (French Republican guard) is part of the French police.
There are responsible for the entire security of the Head of States during their official visits in Paris area. They are considered as Honor guards of Elyssées. They symbolize the Prestige of our French Republic.
– Address: Quartier des Célestins – 18, boulevard Henri – IV, Paris 4th
– Open daily from 10am to 5pm
– Free entrance
The "Garde Républicaine", commanded by a Major general, includes two infantry regiments, a cavalry regiment, a staff and musical groups like orchestra and choir of the French army.
Located in the "Celestins" area, this district houses the headquarters and the cavalry regiment of the French Republican Guard. It is the training area of the cavalrymen of the French Republican Guard. Its stables lodge the 140 horses of the 1st squadron to the brass band of the Republican Guard.
Constructed in 1895, One can admire the magnificent Eiffel Tower style structure of the riding stables where the cavalrymen train daily.
Our Concierge service team recommends you to visit this interesting museum which is within walking distance from your future Paris apartment between Ile Saint Louis and Bastille.
Paris Summer Sensation 2017
PARIS PLAGE 2017 & LES QUAIS DE LA SEINE
Pack your swimsuit & sunglasses and laze in the sun by the banks of the River Seine, just a few minutes walk from your Parisian pied a Terre on Ile Saint Louis. Between the Tuileries and Pont de Sully, there are sandy beaches, palm trees, lines of deck chairs and water jets.  Plus, you can join in the fun of a tai-chi class, rollerblading, scaling a climbing wall, or a relaxed game of boules. NEW in 2017 will be lots of international concerts in front of the Hotel de Ville and your rendez-vous at Paris Plage! The Seine unravels the secrets and story of Paris from its birthplace on the Ile de la Cite to the transformation of the quays at Bercy upstream, and the triumphant Eiffel Tower downstream.
SECRET GARDENS OF PARIS  
Our team will share with you their knowledge of the secret treasures of Paris, such as the location of hidden gardens and special nooks perfect for laying out your checked tablecloth and picnic basket laden with freshly baked baguettes, cheeses and wines from the nearby markets.  Plus, the not to be missed Palais Royal Garden set amidst a breathtaking architectural ensemble. Shhhh!
FOUNTAIN & GARDEN  MUSICAL FIESTAS!
August is a fabulous time to enjoy the fountain & garden fiestas throughout Paris, which feature dramatic water fountains spouting skywards and serenading  listeners with music. Several circuits are available for you to explore including the stunning gardens designed by André Lenotre as the evening closes you can marvel at the spectacular fireworks exploding in front of the Grand Canal! As a special favourite of our team are the gardens at Chateaux Vaux Le Vicomte not far from Paris. As night falls the garden come alive with an unforgettabl visual feast of thousands of flickering candles amid the majesty of this breathtaking estate.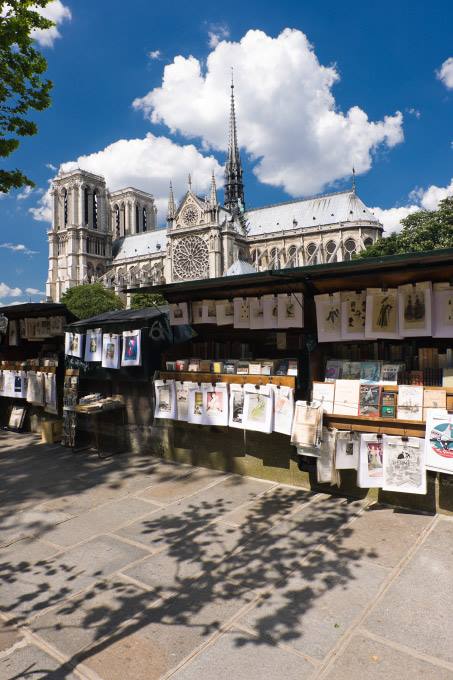 LES "BOUQUINISTES" & "SHAKESPEARE & COMPANY"
Les Bouquinistes, the riverside booksellers offer an enormous 'open-air bookshop' that is an integral part of the Paris landscape. Located on the banks of the "Ile Saint-Louis" & "Ile de la Cite", some 200 riverside booksellers open their green boxes to reveal a treasure trove for readers who visit them from around the world.  Another essential pilgrimage for dedicated readers is a visit to 'Shakespeare and Company', an independent bookstore on Paris's Left Bank.  Since the 1920s it has been a gathering place for writers including Ezra Pound, Ernest Hemingway, James Joyce and Ford Maxox Ford.  Australia's best-selling novelist the late Bryce Courtenay also visited this bookshop in early 2012.  You may also of seen this bookshop featured in the films 'Before Sunset', and Woody Allen's 'Midnight in Paris'.
FRENCH BISTROT & PARISIAN CAFES
Our staff are all dedicated 'foodies' and we can share with you the latest 'hot' places to go to known only by the locals!  Here you can merge with the crowd and sip an aperitif and
watch the  world go by! We also invite you to share with us your own discoveries from your sensational summer in  Paris!
BATEAUX MOUCHES, LE CALIFE!
We invite you to rediscover the magic of the Seine as you float by the legendary landmarks of the City of Light.  We look forward to working with you to plan a special celebration from a wedding anniversary, birthday celebration, or a cruise for lovers on their first visit to Paris, the world's most romantic city.  We also highly recommend you step aboard 'The Caliph" for an authentic cruising experience through the heart of Paris!
PARIS FROM YOUR BALCONY
Guest Apartment Services specializes in selecting apartments which afford
you spectacular views.  You will literally feel that Paris is at your feet!
Our team will work closely with you to select the perfect apartment that we know
will ignite your passion for Paris!
By going to our website you can enjoy a 360 degree virtual tour of each of our apartments !
GO TO THE MARKETS!
The food markets of Paris offer an extravaganza of fresh produce that is at the core of French  gastronomy.  Our guests love visiting them and return home to their apartment laden with bags ready to  'cook up a storm'.  The famous flea markets are also not to be missed, and we promise that you will  find something to take home with a story. Our Co-founders are also antique collectors and can offer you  the benefit of their experience, if you are searching for something truly special.
PARIS, City of  Arts…
It is the perfect occasion to enjoy your next Summer 2014 to rediscover permanent exhibitions of the most beautiful and famous museums Paris: "Le Louvre, Pompidou, Musée d'Orsay… For all of this, there are No almost lines and little waiting. Such as it is the perfect time for privately guided tours of museums and visits Throughout city.
A bientôt à Paris !
Our staff are all dedicated 'foodies' and we can share with you the latest 'hot' places to go to known only by the locals!  Here you can merge with the crowd and sip an aperitif and watch the world go by! We also invite you to share with us your own discoveries from your sensational summer in Paris…
Our dedicated and friendly team is standing by to make sure that your visit to Paris is perfect in every way.
We delight in making sure that our guests feel like locals from the moment they arrive.  We provide you with the latest insider tips on shows, markets, restaurants and speciality shopping!
We look forward to hearing from you soon…
National Museums
List of the main national museums including links to Musée du Louvre, Chateau de Versailles and more…
Opera National de Paris
Opera de Paris, programs and reservations…
Directory of guides for private tours
Explore Paris's heritage in the capable hands of a professional guide who will speak to you of great historical moments and fascinating anecdotes, all in your own language.
Paris City Vision
Get the best sightseeing tours of Paris and France in coach or minibus, Paris by night, Paris " à la carte ", or Paris is by minibus, Cityrama organizes sightseeing excursions and visits of Paris, dinner-cruises on the river Seine, weekends and tours in France.
Green River Cruises Paris
They offer a variety of boatsyou can rent to get a little ride on Seine,Marne & Canal St Martin and for any occasion: drink with friends, signing contracts, anniversaries etc.
Les Bateaux Parisiens
Sightseeing, Diner Cruises on the river Seine.
Le Calife

Le Calife, an authentic cruising restaurant, welcomes you for a dinner cruise on the Seine through the heart of historical Paris in a warm and romantic setting.
Yachts de Paris

Candlelit dinners while visiting Paris… on board, on the Seine. Yachts de Paris can meet your needs for every reception and accommodates your budget for any occasion.
Versailles personalized private tours
Versailles Limousines is a service specialized in custom tour to Versailles, make you discover for a day or a week end the Versailles domain: the castle, the hall of mirrors, king's bedchamber, Marie Antoinette, Apollo fountain.
Vaux le Vicomte
Castle of Vaux le Vicomte, inspiration of Versailles.
Paris Plage 2013
D-1…… Everybody in swimsuit and sunglasses in….. PARIS!
PARIS PLAGES*
* Beaches
20/07/2013 – 18/08/2013
Voie George Pompidou & Bassin de La Villette.
The Seine's banks become pedestrian and the beaches are spread across three spots (Louvre/Pont de Sully, Port de la Gare and Bassin de la Villette). Paris Plage is set up: sandy beaches, deck-chairs, ubiquitous ice cream sellers, and concerts for French and foreign guests.
Between the Tuileries and Pont de Sully, sand, palm trees and jets of water along the river.
It features open-air attractions (rollerblading, tai-chi, wall climbing, boules etc.). Refreshment areas, play areas and deck-chairs are available for your time out unwinding by the river, ideal after a museum visit or a long walk from the Champs Elysées!!
Holidaymakers at the Bassin de la Villette (Paris 19) can also borrow books free of charge, play beach volley, take an aquagym class in a mini pool, or kayak around the lake
– NEW in 2013! A Tyrolean will connect the two banks! It will satisfy amateurs of thrill!!
And to celebrate the opening…… A lot of concerts will stand in front of the Hôtel de Ville, from July 18thto the 21st !
Rendez-vous at Paris Plages from Saturday July 20st to Sunday July 18th, 9am to midnight!