Owners
Attention Apartment Owners
Are Short Term Paris Apartment Rentals Legal?
Yes, under certain conditions.
Owners have the right to rent their principal residence, when they are not occupying it, up to 4 months a year. These 4 months can be divided into 17 weeks or smaller stays that are not necessarily grouped together. Owners have the right to rent short term their secondary residence in Paris under certain conditions as well. – If the apartment is rented permanently the owner must change the usage of the apartment to commercial in nature. If the apartment is not already under this statute then the owner must proceed with this change.
What is the « numéro d'enregistrement » or "registration number"?
When you rent your apartment by the month or week, the law in some countries and regions requires that you declare these rentals to a specific authority in the city where your property is located.
In France, this implies that the property is automatically registered with the « Registre du Tourisme » or "Tourism Registry" and your property or properties will be given a number known as the « numero d'enregistrement » or "registration number".
The information hereby is given as a courtesy by Guest Apartment Services Paris. We are not responsible if it is inaccurate or not updated. Guest Apartment Services Paris recommends that you check with the local authorities in order to verify that you are in accordance with the laws of the region where your property is located.
Interested in our services ?
We invite you to contact us if you are considering renting out your apartment for visitors to Paris. Since 1997 Guest Apartment Services Paris has specialized in luxury rentals on Ile Saint Louis, and the nearby neighborhoods (3rd, 4th, 5th and 6th Arrondissements).
We have a data base of premium clients who regularly book our luxury apartments.
If you own a beautiful apartment in the above areas, and would be interested in renting it out then please contact us: e-mail: inf[email protected] , or Telephone +33 1 44 07 06 20.
You are also welcome to call into our head office anytime for a preliminary discussion.
We are open Monday to Friday from 10.30 am to 6.30 pm, and are located at 17 Rue Saint-Louis en L'ile, 75004, Paris.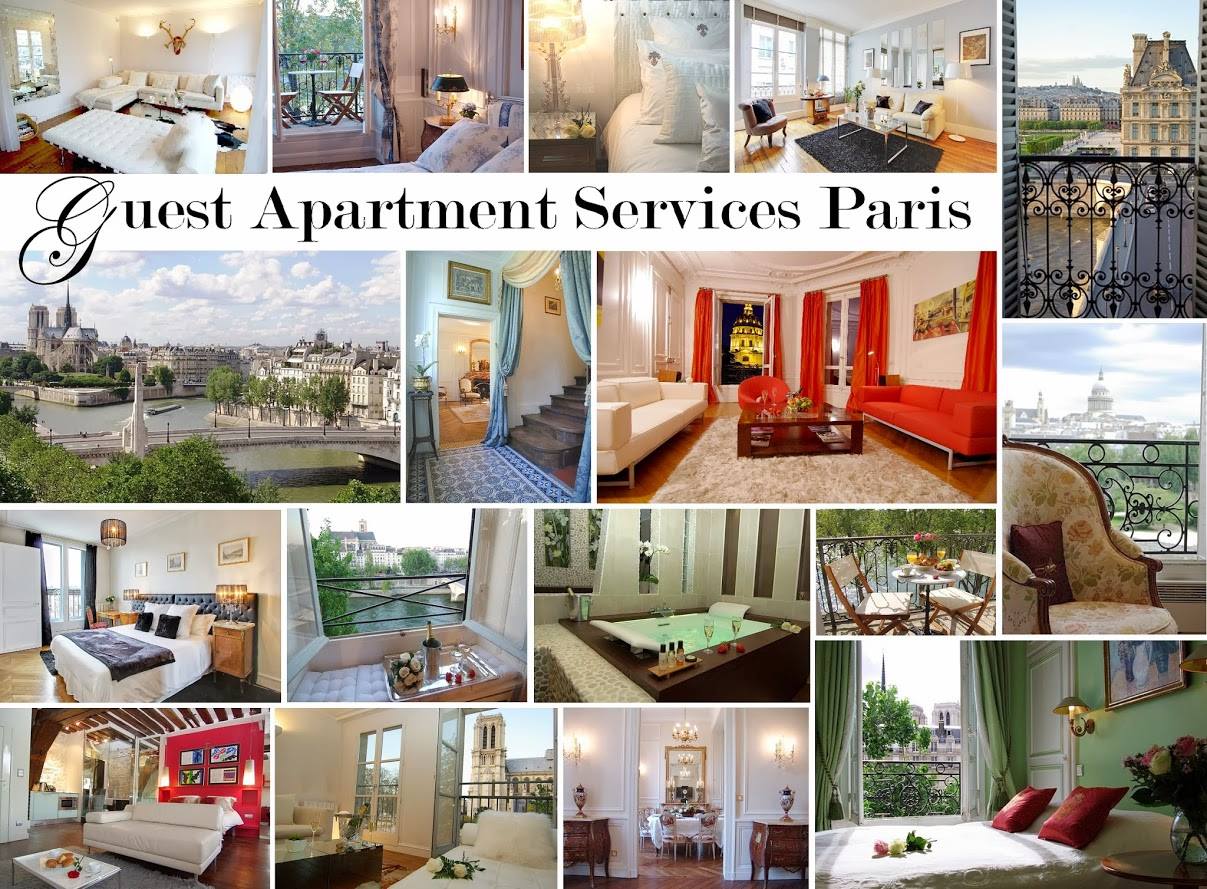 Our Prefered Criteria?
We are searching for apartments located in central Paris, preferably on Ile Saint-Louis where our office is located.  Other popular locations for our guests include the 4th, 5th, and 6th arrondissements, the Marais and Ile Saint-Louis. Sought after apartments usually feature a beautiful view, and are finished to a high standard. Many include modern kitchens and bathrooms with bespoke finishes, and quality wardrobe facilities. A minimum size of 30 Sq. metres (320 Square feet) is required. If your apartment is located higher than the third level, then an elevator is essential.
One of our experienced and dedicated staff members will be pleased to meet with you to go over every aspect of what renting your property will involve.  Following this we can liaise with you for an inspection of your apartment. We are also available to assist you to modify or refurbish your apartment to meet the standards usually required by our discerning guests. Our clients come from all over the world but with the majority coming from the USA, and Australia. Many of our clients arrive as our guests and return home as our friends!
Why choose Guest Apartment Services Paris?
Since 1997 our vision has been to be the finest boutique luxury apartment rental company in Paris.  We are locally based and the owners Christophe Chastel and Philippe Pee have resided in Paris for close to thirty years.  We represent select properties of a high standard for our esteemed guests, and we are immensely proud of our service and portfolio of exceptional properties.
From the moment we lease your apartment for rental we remain committed to its ongoing maintenance, security and care. We would be happy to provide you with testimonials and references from our current owners, who will attest to our  high standards of service and professionalism.
We exclusively manage all of the properties that are offered for rental. No other agencies are involved.
Our office at street level on Ile Saint-Louis is the welcoming office for our arriving guests. In addition it serves as the base for our reservations and marketing staff, our salaried housekeepers, quality control manager, maintenance supervisor, and professional laundry facilities. Both prior to and following each rental term every apartment is meticulously checked, cleaned, and any maintenance issued are attended to.  In other words, we take care of the apartments in our portfolio as if they were our own.
We pride ourselves on the high level of service we offer our guests, which is of a similar standard provided to guests in a luxury boutique hotel.  We also offer our guests a 24 Hour emergency line.
We also guarantee our owners the flexibility they need to be able to
come and stay in their apartments at a time of their choosing.  We recognize you will want to enjoy your apartments as much as our guests do. We are also happy to provide the same level of concierge services if required.
Owners are also assured of very high occupancy levels as we invest heavily in our marketing efforts including paid advertising, social media, travel blogs, and quality media coverage by the world's most respected travel journalists.  Please visit our Press and Media page for the latest reviews and articles, and to learn more about us.
Please note that Guest Apartment Services Paris is also a member of Paris Tourism Office, and in 2014 we were the proud recipients of the Travel & Leisure USA Award for best holiday villas in France.
We look forward to meeting you, and to inspecting your beautiful apartment.  We assure you that we offer the highest level of service and professionalism that you would expect when offering your Paris home for rental.
Owner Enquiry Details?
If you believe that your apartment meets with our criterion, then please contact us by email ([email protected]) and send us your answers to the questions listed below. Please be assured that the information you provide will be treated as strictly confidential.
Your Full Name/s :
Email :
Phone Number (include Country Code + Area/City Code + Phone No) :
Address of your apartment? :
Number of bedrooms? :
How many people can comfortably sleep in your apartment? :
Total number of bathrooms? :
Total number of toilets? :
Is your apartment air conditioned? :
What floor is the apartment located on? :
Elevator:  (Yes or No)? :
Building type (ancien or modern)? :
Would you be renting your apartment to us as furnished or unfurnished? :
How many months per year would you wish to rent? :
When would you like to commence renting your apartment? :
Where else to you currently advertise your apartment for rental? :
If so, please provide the web links :
Please attach a few photos of your apartment if available :
For more details please consult us at [email protected]
Thank you, and we look forward to hearing from you soon.
Christophe Chastel & Philippe Pée
Owners
Guest Apartment Services Paris