Gastronomy
La Tour d'Argent
A Historic Restaurant
La Tour d'Argent is one of the oldest and most famous restaurant in the world.
It is facing Ile Saint Louis where Guest Apartment Services Paris run all its luxury rentals since 1997.
Frequented for four hundred years by royalty and aristocrats, the great and the good, there, the gastronomy history meets the History of France.
The Origins
Under King Henri III, in 1582, a certain Rourteau opened an elegant restaurant which did welcome the aristocrats of the French Court.
The nearby "Chateau de la Tournelle built with a champenoise stone material with silvery reflections that gave its name to the restaurant  "Hostellerie de la Tour d'Argent".
The legend says that King Henry III frequented this historic spot, where he discovered the use of the fork, an utensil imported from Italy.
King Henri IV was also a regular guest, to eat the "Poule au Pot" that made the chef's reputation. Since then, many Kings, royalty and aristocrats ate at the restaurant like King Louis XIV.
On July 1789, during the Storming of the Bastille, La Tour d'Argent that was located nearby, was sold by auction.
In 1890, during the Third Republic, the owner Frederic Delair became famous when he created the "Canard au Sang", ritual that is a complex dish of duck, known as pressed duck or bloody duck.
At the time he declared that every duck should bear its own number and this ritual is still carried on today.
In 1911 the Terrail family bought the restaurant. First it was operated by André Terrail, then by his son Claude who died in 2006 at the age of 88. Now Claude's son, André owns the restaurant.
In 1933 the Guide Michelin granted three stars to the restaurant.
In World War II during the Nazi occupation of Paris, the restaurant built a fake wall in the cellar to hide its wine collection.
Today this exceptional cellar is supervised by David Ridgway, the Chef Sommelier since 1981 and contains more than 450,000 bottles whose value was estimated at 25 million euros, in 2009.
The oldest bottles are Bordeaux wines which date on about 1845 and a cognac which dates about 1788.
Recognition and decadence
In the 50s, Claude Terrail developed the exceptional cellar of the restaurant under the Seine with
450 000 bottles but he also created the lounge Georges V and "L'Orangerie".
After centuries of fame, La Tour d'Argent knows its apogee in the 80s with the visit of the Emperor of Japan who ate at la Tour d'Argent and was very impressed by his dinner.
Thereafter, many famous figures of the Japanese political and business world dined at the restaurant and the establishment became trendy in the Japanese high society, as the place to be during a visit to Paris.
In 1984, Tour d'Argent opens its first and only branch location in Hotel New Otani Tokyo, with a view of the hotel's 400-year-old Japanese garden.
Tour d'Argent Tokyo prides itself as being the most authentic representation of French culture and tradition: an ambassador of a gastronomic heritage recognized around the world.
Unfortunately, in 1996 the rating was reduced to two stars, the reason was the menu has never been changed since 1933.
In 2006, La Tour d'Argent lost his second star at the Guide Michelin because of the bird flu that affected the country at that time.
La Rotisserie d'Argent
In 2006, André Terrail, succeeded to his father and La Tour d'Argent welcomed a new chef, Stéphane Haissant, who created a new menu.
In May 2016, a new chef Philippe Labbé succeeded to Stephane Haissant with the ambition of getting back the old glories.
André Terrail also renovated the former "Rôtisserie du Beaujolais", across the street, renamed it "La Rôtisserie d'Argent" and next to it opened a beautiful bakery
The grill house completes the gourmet restaurant by proposing a brasserie's menus with beautiful products of our regions at price bar.
Don't hesitate to eat in this restaurant and share your experience with us.
Sources et crédits : Wikipédia, Bonjour Paris, Places in France, L'internaute, La Tour d'Argent.
Ute Biefang
Interview with Ute Biefang, a personal guide dedicated to gastronomy in Paris… Capture the beauty of Paris beyond a world of food !
The most common service I provide are bespoke guided walking tours with a focus on gastronomic delights and a glimpse of the real Paris away from the main attractions.
What's differentiates your tours to anyone else's?
All of my tours are custom tailored according to my guests specific interests. There are no standard tours.
My tours are bespoke and highly individual and the personal interaction with my guests is what makes it unique and special thus I do not offer a service such as 'joining a tour'.
Before arriving in Paris I consult with my guests via email and find out what they would like to experience and then make suggestions for potential itineraries.
Some of my guests are after specific research, such a chocolate shops, pátisseries or restaurant design trends as well as specialised shopping.
Mostly my guests stay in apartments, love to cook or at least enjoy a meal in their temporary Parisian home that may be a selection of the finest produce in Paris.
Often my tours are a combination of a market visit with shopping advice to ensure you taste the best that Paris has to offer combined with the discovery of an unknown quartier of Paris.
Then there are others guests whose interest in food is marginal however the one thing everyone shares is a desire to experience Paris from a local perspective away from any known tourist sites.
And it might sound obvious, but what's different say compared to a guidebook? 
My aim is to go beyond where the guidebooks go that list facts etc.
With my tours I am trying to open up the streets of Paris to you with all its smells and sights and bring it to life with a local Parisian view.
The other service I provide is to ensure you have the absolute latest info which is not available in guidebooks.
I incorporate shops and addresses that are brand new.
And the comment I hear a lot is that I save my guests a lot of time as the ground we cover on my tours would take my guests so much longer to discover on their own. They get to see a whole lot more of Paris with me as we navigate the city from a local perspective with beautiful shortcuts etc.
What's the most satisfying comment someone has said to you after doing your walk?
It tends to be the thank you emails that say that the tour was the highlight of their trip to Paris. And then another booking a year or two years later when my guests return to our beautiful city.
What makes Paris so charming? 
The smell of the boulangeries of freshly baked bread, the choice of produce in the markets, watching Parisian life go by from the outside of a Parisian bistrot.
And mostly being a flâneuse. A word that derives from the verb flâner, meaning walking and exploring the streets without any specific purpose trying to capture the essence of Paris.
What's the best hidden gem you have found in Paris?
I keep finding new ones….it is a never ending journey.
Contact Ute:
Website: www.uteinparis.com
e-mail: ute@uteinparis.co
Your special parisian Breakfast at home
by

Enjoy a typical French gourmet breakfast without heading outside to any palace or boulangerie. The finest products are coming to you ! UpDELI's mission is to give you the best experience. How come? We have selected the best Chefs and suppliers so that each one of our products reflects high quality and French savoir-faire.

VIENNOISERIES

Baked fresh to order by a Meilleur Ouvrier de France Frédéric Lalos, the baguettes and viennoiseries are shaped with the best flours and fresh butter.
Croissants, chocolate croissants, raisin buns, chausson aux pommes, chouquettes, brioche, chocolate chip cookies, mini financiers, macarons…  Say yes and they will be yours.
To enjoy with your tartine : fresh soft butter and old-fashioned jams from La Chambre Aux Confitures by Lise BIENAIME.
BOISSONS
The choice is yours ! Merveilleux !
Teas come from Palais des Thés and Tamayura. Palais Des Thés was founded by François-Xavier DELMAS, a master tea sommelier that travels over the world to find the best leaves. Tamayura is a traditional Japanese house that only selects tasty and healthy green teas in the Yamé region.
Hippolyte COURTY, founder of L'Arbre À Café, selected our Grand Cru coffee : the Red Iapar. It is a Pure Arabica coming exclusively from the Camocim plantation in Brazil. The coffee beans are gently roasted especially for UpDELI to provide the largest span of tastes. We grind the coffee just before serving it, to ensure the maximum freshness.

The gourmand people will fall in love with the Artisanal Hot Chocolate from Jean-Paul HEVIN, Meilleur Ouvrier de France. Pure cacao powder, organic fresh milk and a pinch of sugar are the ingredients for this genuine chocolate.
For those days when sunny mornings gets your really thirsty, bank on Ulti juices. Fruits are squeezed at perfect maturity and put in bottle at a high pressure to preserve all of its taste and vitamins. It will remind you of your home-made juices !
Get this tasty experience started now !
How to order?
1. Call us from your Parisian apartment at 01 45 75 50 50 OR e-mail us at commercial@updeli.com before 6PM
2. Order your breakfast and give us your address, mentioning you are hosted by Guest Apartment Services (for the follow up) day and time of delivery
3. Wait for this tasty moment !
La Cuisine Paris
Discover French cooking classes taught in English at  school right here in the heart of Paris. Whether you want to learn how to bake a croissant, master the art of macaron making, whip up the perfect soufflé or dive into the French culinary scene, our team of chefs and expert guides will bring something unforgettable to your Paris trip. With a full range of baking classes, cuisine classes and food tours, they believe in a perfect balance between learning and fun. With small intimate experiences, you'll learn all the skills you need to recreate the culinary magic at home!
Our dedicated team highly suggest you French cooking classes with an English speaking chef :
La cuisine Paris !
Please note that it is better to book in advance before your arrival in Paris…
~
Check out their website at www.lacuisineparis.com or email them at contact@lacuisineparis.com – à bientôt!
Adress: 80 Quai de l'Hôtel de Ville, 75004 Paris – Telephone : +33 (0)1 40 51 78 18
Chef  Q  Paris
Didier Quémener discovered his love of cooking as a 7-year-old growing up in the French countryside. But Didier, who holds a literature degree from the Sorbonne, only transformed this pastime into a profession in 2008 when he founded Bulle & Sens (now Chef Q Paris). In 2012, he launched Food Me, an innovative French and English website all about food.
This Parisian enjoys sharing tips about cooking, food and wine. He is inspired by all he learned in his grandmother's kitchen as well as his travels throughout Europe, Asia and the U.S., where he lived for five years.
Chef Didier has been cited in articles by Quartz and Bloomberg News, has been a guest on France 24 International News, and worked on a pastry documentary with Chef Michel Roux Jr. for the BBC.
~ Services ~
Dinners
To thoroughly explore the world of French gastronomy, Chef Didier will create a unique, personalized dinner experience at your place (according to your preferences, food allergies and restrictions)!
A traditional menu will include 3 to 5 courses: appetizer, fish/shellfish course, main course, cheese and dessert. Paired with a great selection of wines, your dinner experience will be unforgettable!
Wine Tastings
A wine tasting at your place? Chef Didier will select France's best wines, champagnes and cordials paired with some of the greatest culinary assortments to enchant your tastes buds!
Foie gras, caviar & oyster selection, amuse-bouches, cheeses from our Maître affineur & organic breads, petits fours and French macarons… A luscious experience!
Regional Private Tours
– Champagne Private Tour
What could be more relaxing than a day in the Champagne Region? Discover its secrets with Chef Didier and enjoy his expertise, anecdotes and wine knowledge while visiting some of the oldest champagne houses. Sit back, relax and enjoy our vintage tastings in a VIP room… This one-day experience includes a lunch at a Michelin-starred restaurant in Reims.
– Burgundy Private Tour:
Gevrey-Chambertin, Pommard, Nuits-Saint-Geroges, Chassagne-Montrachet Meursault… Chef Didier will escort you on private vineyard and wine cellar visits, where you will taste some of the wonderful wines produced at the estates. This two-day experience includes a dinner at a Michelin-starred restaurant and lunch at one of Bernard Loiseau's restaurants.
Market Tours
Share our passion for eating in Paris while touring markets and specialty shops!
Seasonal fruit and vegetables, fish, meats, poultry and cheeses… Discover a traditional French market, learn how to pick the best items, let our Chef tell you about the fresh products that he uses regularly, and of course, you will have a taste.
 Cooking Classes & Culinary Demonstrations
Our team offers a range of culinary discoveries for those with a passion for the art of cooking. Or simply uplift your talents in the kitchen as you expand your culinary skills with exciting demonstrations.
**Please note that for the Cooking Classes and Culinary Demonstrations, a kitchen the size of 25m2 (260 square feet) minimum is required. Kitchens might be rented separately with an extra cost (price to be determined).
Your dedicated team would be pleased to organize a very special dinner with Didier!
Chez René
A typical parisian bistro like we love them…
Chez René is a classic bistro with rows of table cloths with white cotton, a mosaic floor in a soft Lights … You are comfortably seated on plush leather banquettes chestnut to enjoy delicious French dishes.
A welcoming place where waiters relieve you of your coat and take you to your table.
It is a typical restaurant with traditional and classical French dishes and homemade recipes. At its menu : tabs kidney pepper sauce, gratin of chard,  beef bourguignon sausages and salami… and finally, their legendary chocolate mousse, a real treat ! Safe values cooked with taste and finesse.
Close to the famous Tour d'Argent, Chez René is ideally located close to your ile saint louis apartment.
Guest Apartment Concierge Team recommends you this traditional restaurant, Chez Rene. It is open daily from 12:00 am to 2:30 pm & from 7:00 pm to 11:00 pm and closed Sunday & Monday.
Chez René, 14 Boulevard Saint-Germain, 75005 Paris.
Tel: 01 43 54 30 23
Restaurants with Terrace in Paris
Spectaculaire !
Café Marly, Palais du Louvre, Cour Napoléon, 75001. Tel: 01 49 26 06 60
A fabulous location facing the pyramid of the Louvre…to see and be seen.
Le Georges, 6ème étage du centre Georges-Pompidou, 75004. Tel: 01 44 78 47 99
Panoramic views over all of Paris in a high design setting.
A la mode – Trendy !
L'Absinthe, 24 Place du Marché Saint-Honoré, 75008. Tel: 01 49 26 90 04
The best restaurant in this quaint little square.
Au Bourguignon du Marais, 52 rue François-Miron, 75004. Tel: 01 48 87 15 40
Sidewalk terrace in a cute side street.
Pasco, 74 bd de la Tour-Maubourg, 75007. Tel: 01 44 18 33 26
A corner terrace with view of the Invalides. Mediterranean cuisine.
Fontaine de Mars, 129 rue Saint-Dominique, 75007. Tel: 01 47 05 46 44
Sidewalk terrace across from the fountain. Cute.
Petit Village…
Hôtel Costes, 239 rue Saint-Honoré, 75001. Tel: 01 42 44 50 00
A stylish "peaople" patio-restaurant for those that want to see and be seen.
La Gare, 19 Chaussée de la Muette, 75016. Tel: 01 42 15 15 31
Chic and trendy, vast and airy, the terraces of this restaurant have replaced the old rail road tracks. Very fun.
Agapé
Dining area
A cosy atmosphere, mood lighting, a warm atmosphere… L'Agapé, starred in the Michelin Guide, is full of feel-good factor. The tables are covered with elegant cloths and the dining area, for 35 to 40 guests, is decorated with a sculpture by Nathalie Decoster and paintings by the Vietnamese artist Boun. The restaurant is ideally situated, in the 17th district of Paris, near the Boulevard Malesherbes, the Avenue de Villiers and the Avenue de Wagram, not far from the Ternes district. L'Agapé is the result of the vocation of two food enthusiasts, Laurent Lapaire and Olivier Le Franc, graduates of the Montargis catering school. They have both been trained up in excellence. Laurent trained with the great chefs of starred restaurants, and Olivier learned the art in Paris's luxury beer cellars and restaurants. So they naturally decided to join forces and create L'Agapé in 2008, and earned a star in the Michelin Guide in 2009.
In the kitchen…
In L'Agapé, the gourmet cuisine respects the product and the flavours. Each dish is flavoursome, classical and elegant. The restaurant offers seasonal and exceptional products to gourmets. The new chef Toshitaka Omiya, faithful to the spirit of the place, works subtle miracles on the dishes, textures, flavours, temperatures and spices that he mixes delicately. The desserts are also an attraction on the menu of L'Agapé. All the talent of the dessert chef Rikako Kobayashi is expressed in the surprising and unctuous creations, such as her "Madong" chocolate named after a 70% cocoa butter chocolate from Papua.
The menus…
L'Agapé offers an à la carte menu and three set-price menus. "Lunch menu", depending on the day's market: appetizer, hors d'oeuvre, fish or meat, dessert. "Agapé menu" (for lunch or dinner) is composed of 5 dishes chosen by the chef to get a taste of the range of food. "Carte blanche menu" (for lunch or dinner) is composed around 8 dishes depending on the season and the inspiration and mood of the chef ! The wine menu is also one of the major highlights of L'Agapé. It offers mainly natural organically grown wines, and is permanently looking for new surprises.
Guest Apartment Conciergerie Team recommends you this gastronomic restaurant : L'Agapé. It is open from Wednesday to Sunday from noon to 02:30pm & from 08:00pm to 10:30pm and closed Monday and Tuesday.
L'agapé, 51 rue Jouffroy-d'Abbans, 75017 Paris.
01.42.27.20.18
Stephanie Alexander
What is it about this city for me? Is it the slanted slate rooftops all silver in the morning sun? Is it the pleasure of the harmonious vista of cream, sand and all shades of grey from dull pewter to silver? Bridges, roofs, facades, shutters, even the pigeons fit the colour scheme. From our window I look onto the fast flow of the Seine, with houseboats, barges and of course the gaily painted tourist boats. I am in time for the first springtime green leaves, flickering in the morning breeze. They are late. Everyone exclaims about the ferocious winter that went on too long. On the nearest pedestrian-only bridge are buskers, children on skateboards and a Japanese bride being photographed, like a fluffy meringue in her white frothy dress. The chestnut trees are in flower.
We are in old apartment on the Ile Saint-Louis, built probably at least three hundred years ago, with worn oak floorboards in a herringbone pattern that creak at every step. It has wall sconces that were probably once gaslights, marble fire surrounds, elegant eight pane windows with wooden shutters and a miniscule balcony. Today the apartment has been refurbished as a luxurious holiday location with all mod cons such as WiFi, TV, dishwasher. It still has its fifty-four steps to the outside world, a stone spiral staircase with elegantly wide steps, still a haul for the last ten I find. This was my second experience staying in an apartment managed by Guest Apartment Services, Paris. This small company specializes in accommodation on the island, from intimate studios to 3 and 4-bedroom whole floor apartments.
I love the specialist Parisian boutiques, such as the Serge Lutens boutique in Palais-Royal, so discreet where scent is taken so seriously; the quirky handmade jewellery stores; the Pierre Herme cake shop where my chestnut tart was wrapped in its own box and cost a fortune. (I rather regret not being in Paris an extra week when the proprietor of another fancy boutique would have made me a perfect pair of black crepe de chine trousers.) But it is the window displays of cheeses, and artisanal breads and of course the markets that capture my closest attention.
And the old style cafes. Becoming less common it must be said. Brass railings around the bar. Cane chairs on the terrace, booths within, and always waiters wearing long white aprons and black waistcoats. It seems that every waiter can balance a tray of assorted glasses, full or empty, whip the top from a bottle of beer, slap down a bill, and pick up change, all with one hand and still keep up the repartee with the regulars! We ordered a citron presse for old times' sake and it came with real lemon juice, a shaker of powdered sugar and water. In inferior places one is offered lemon cordial.
And what were the culinary highlights? I had foie gras for my first lunch and a green salad. At Le Petit Pontoise we all started with white asparagus – it was the beginning of its short season. I then had memorable grilled calves liver (the raspberries were unnecessary) with flowing mashed potato. My cousin went for pig's cheek, and Janni had kidneys with mustard sauce.
At the very grand La Grande Cascade in the Bois de Boulogne, Janni and I shared a turbot for two roasted in a salt crust and presented on a bed of samphire.
A new discovery was Agape where I had perhaps the dish of the trip. A squab pigeon roasted till rosy-pink and served with a puree of swede turnips. Others had suckling pig.
I had spent a few hours in French conversation classes before leaving to try and drag that long ago vocabulary to the front of my brain. Not sure if it all flooded back but I was much happier at the ease with which I could communicate with the vendors at various markets and in restaurants. Wouldn't want to try and discuss Proust though.
And then it was time to return home.
Septime
The place to be ! This neo-bistro with fine modern decor transforms raw materials into master paintings ! Wooden planks, industrial suspensions, field flowers and open kitchen. This prized address Paris gourmet whose everyone speaks is located rue de Charonne !
Unlikely ! The contents of the plates leads us directly to the main topic : cooking Bertrand Grebaut (trained by Alain Passard) that to flirt ingredients we would not have believed: raw deer with tarragon and olive Kalamata or whiting "Saint John" with endive and orange butter receive the blessing of our almighty palate.
Breath of fresh air ! About desserts, diners can savor a pear-quince, lemon verbena and crumble or strawberry garden with fromage blanc and sorrel… The intoxicating freshness !
Guest Apartment Conciergerie Team recommends you this gastronomic neo-bistro with reservation needed 3 weeks before (preferable through internet) and open every day excepted Saturdays, Sundays and Mondays for lunch only.
Septime, 80 rue de Charonne, 75011 Paris.
01 43 67 38 29
Your Parisian Brunch
Le Plaza Athenee, 25 avenue Montaigne – 75008 Paris, 01 53 67 65 36
7am to 12pm on weekends, enjoy succulent pastries by Christophe Michalak in an exceptional setting at the Plaza Athenee. Around 50€.
L'Alcazar, 62 rue Mazarine – 75006, 01 53 10 19 99
The very trendy "l'Alcazar" offers a personalized brunch with a large choice. 32€.
Le Pavillon du Lac, Butes Chaumont 4 Place Armand Carrel – 75019, 01 42 00 07
A typical French restaurant where you can enjoy brunch at the heart of the Parc des Buttes Chaumont in the magnificent glass roof or terrace. 24€.
Chez Prune, 36 rue Beaurepaire – 75010 Paris, 01 42 41 30 47
A New York Brunch way in a Parisian bistro on the quay St Martin canal. 14/21€.
Grizzli, 7 rue Saint-Martin – 75004 Paris, 01 48 87 77 56
Close to Beaubourg, this café-brasserie satisfies every taste with traditional cuisine homemade. 23€.
Le Loir dans la Théière, 3 rue des Rosiers – 75004, 01 42 72 90 61
Atmosphere "as at home" and friendly place, The Dormouse into the teapot menu offers the classic brunch with hot homemade chocolate and succulent pastries. 18.50€.
Les Fous de l'Ile
Atmosphere "as at home" and friendly place, The Dormouse into the teapot menu offers the classic brunch with hot homemade chocolate and succulent pastries. 18.50€.
At the heart of Ile Saint-Louis in the 4th arrondissement of Paris, "Les fous de l'ile" restaurant of which is literal meaning :"the crazy of Island", rhymes flavors and good mood.
In a bistro warmest atmosphere, let's be seduced by a casual and traditionnel French cuisine… Its original and modern interior with decorative barnyard notes (showcasing hens and pullets) will surprise you… Enjoy dishes such as the base of french tartare, fillet of sea bream with fondue of leeks and the real cheeseburger in the way of fools !
They also serve plentiful brunch on sundays from 12am to 16pm for 23 euros (smoked salmon, cold meats, salad, eggs, cheese or chocolate cake, fresh fruit salad, pancakes, pastries, toasted bread) Guest Apartment Conciergerie Team recommends you this restaurant with no reservation needed and open every days from 11.00 until late.
Les fous de l'île, 33 rue des deux ponts, 75004 Paris.
01 43 25 76 67
Le Sergent Recruteur
Located next your Parisian "pied à terre" on Ile Saint-Louis, Le Sergeant Recruteur, is an exquisite gourmet restaurant. One of the sensations of the season, his modern and exclusive design is inspired with medieval references. There is a unique menu with from 6 to 10 dishes depending on appetite, starting from 65€.
His young chef, Antoni Bonnet reveals in his subtle style kitchen expressive flavors !
He excelled and proved his culinary talents, thanks to his affinity towards great products. Whether its oysters, rib steak, butter or chocolate, each element finds its place on the restaurant's plates which embody elegant simplicity. A man of few words, Antonin serves his quality dishes to a backdrop by Jaime Hayon with minimalist furniture, illuminating the former medieval inn.
Guest Apartment Services Concierge services would be glad to make your reservations in our favorite gastronomic restaurant on the island : Le Sergeant Recruteur.
Le Sergent recruteur, 41 rue Saint-Louis en l'île, 75004 Paris.
01 43 54 75 42
Itineraire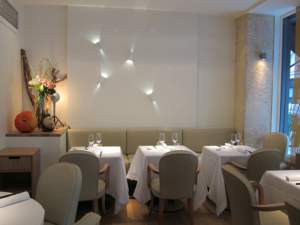 Inventive, creative, gatronomique cuisine.
5 rue de Pontoise, 75005 Paris.
Le Train Bleu

Classical brasserie style cuisine on exceptional location and place.
Gare de Lyon, 75012 Paris.
GASTROHOMING

The art of hospitality in Paris
"Gastronhome" is the combination of the "Gastronomy" and "Homing".
Pierre-Yves Tremintin (Sommelier) & François Marchenay (Chef) propose a delicious moment of life to their guests, at home, in their Paris apartment !
Personalized & Private dinner ~ Wine tasting ~ Cooking lessons ~ Table art
Discover their VALENTINE Menu 2015
Appetizers
Endive, scalops tartar with Timut pepper
Grissins with Bellota ham
Amuse Bouche
Oyster flavored with Thai basil
First starter
Roasted nephropes , condiment with apple, celery mousseline , marinated
Second starter
Seared and lacquered foie gras , vegetables with black truffle, ginger chicken
broth
Main course
Blue lobster roasted in salted butter, caramelized endive with tangerine juice,
seashell emulsion
Dessert
Citrus with champagne, madeleine with acacia honey , lime sorbet
~
Trust in the Sommelier's selection or feel free to serve your own wine.
First et second starters: Alsace / Pinot Blanc, Marc Tempé 2013
Main course: Bourgogne / Chassagne-Montrachet 1er Cru, Joseph Drouhin, Morgeot 2010
Appetizers & Dessert: Champagne / Brut Rosé, Ruinart
Your Conciergerie Team would be pleased to organize a private dinner in your Paris Apartment!
~
Web site  : WWW.GASTRONHOMING.COM
E-mail : contact@gastronhoming.com
Tél. : +33 (0)6 61 52 49 46
SUGARIE BAKE SHOP
After hours of pouring our heart and soul into baking, and peeking into our ovens as we watched the "feet" of our Macarons grow, we were so excited to have perfected the art of using the traditional French Meringue method to bake Sugarie's French Macarons.

2013 began with a bigger inspirations for Sugarie Bake Shop's new home, and of course, we couldn't help but go back to where we started, in Pleasanton, CA.
We are so happy to bring you Sugarie's French Macarons, Petite Patisserie and Savory Bakes in our store debut.
Sugarie's humble beginnings started in downtown Pleasanton, CA.  As we walked our basket of French Macarons door-to-door to see what everyone thought of these colorful, handmade delectables, we heard lots of "Ooohs" and "Aaahs" along our way. At that moment, we were inspired to create Sugarie Bake Shop.​
In our first Christmas season in 2011, orders and requests for our most popular flavors: Red Velvet, Menthe Dark Chocolate and Espresso Rum soared, we knew then we had something very special…
Serving more than 18 caterers and hotels in the Bay Area, and a handsome portfolio of weddings and parties, Sugarie has earned rave reviews by renowned caterers and head chefs.  We pride in ourselves serving you the best quality, and freshest, made-to-order French Macarons.
We look forward to sharing our "Love of Sweets" with you.
Merci Beaucoup!!
 Natalie  "The Baker"
~

VINTAGE HILLS SHOPPING CENTER
3500 Bernal Ave, Suite 155, Pleasanton, CA 94566
Call: 925-789-9067
Website:www.sugariebakeshop.com

"%s"', 'twentysixteen' ), get_the_title() ), '' );*/ ?>